IOSH Accredited Training, Consultancy & Accident Investigation
---
Fully IOSH Accredited Training Courses, Sound & Honest Consultancy & Cutting-edge Accident Investigation
ISAC (UK) Ltd have been established for over 17 years, and within this time have advised and helped train employees in companies, large and small, from all industries throughout the whole of the UK. As you can see, our client list is extensive, ranging from small sole traders to multi-national companies.
Our consultants are all members of the Institution of Occupational Safety and Health (IOSH), with at least GradIOSH status, a NEBOSH Diploma (or equivalent) and working towards Chartered Status. In 2003, one of our senior consultants was awarded a Fellowship.
When consulting, ISAC (UK) Ltd aims to provide sound and honest advice to all of our clients and as such have built a reputation that has become respected throughout UK in a number of industries. When training, ISAC (UK) Ltd aims to provide up to the minute information on the disciplines that we are lecturing on, through the assistance of a dedicated researcher within our company.
ISAC (UK) Ltd consultants also keep abreast of the latest changes in the law by sitting on a number of working parties and attending specialist seminars.
---
Corporate Enquiries
if you're considering running a course on your own premises,, Click Here to send us the details of venue and preferred dates...
---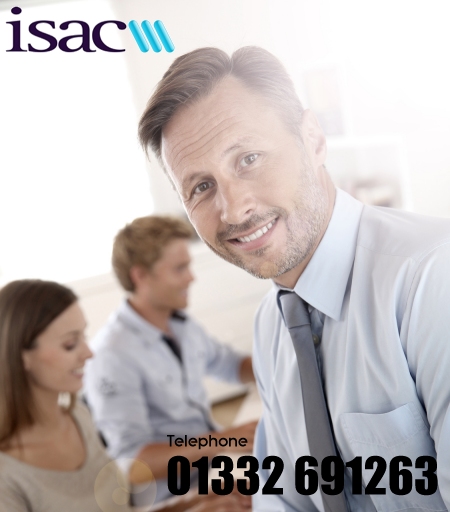 Address: ISAC (UK) Ltd, 2 Courtway Crescent, Chellaston, Derby DE73 5TS
Phone: 01332 691263
Email: enquiries@isac.co.uk
---
ISAC Client Reviews
We recently sent an Operations Manager on training to Derby. Nothing wrong in that you might think, except the usual comments abounded prior to attendance, "the course is too long, can't afford the time, do I need this", etc. ISAC however had other things on their mind, for on his return, the ops' manger in question had nothing but praise for the course organisation, structure, presentation and delivery. The ability and knowledge of the staff in answering questions was second to none and blew me away....he thoroughly enjoyed the experience! We need to do this more often. On behalf of Skanska, thank you ISAC.






SKANSKA,
Very good course and enjoyable too.






Delegate on Legionella Management Course,
Very professional and enjoyable. Very worthwhile course!






H&S Consultant on Legionella Control for Property ,
A thoroughly enjoyable machinery safety course with practical applications for the work environment.






Delegate on Work Equipment Course,
Made a dry subject v interesting. Good pace and included time for questions. Good background examples and case law.






Civil Engineer,
An excellent course, many thanks. Alex's session with case study was interesting and well presented.






Delegate on Legionella Management Course,
Very good course, Thank you to Alex Sammut!






Letting Agent on Legionella Control for Property C,
I attended the CoSHH course as a full novice. Whilst I won't be leaving it as an expert, I feel much better prepared to deal with the demands of my position. It was appreciated that Geoff made what could have been a very difficult subject in to something comprehensible.






Delegate on Modern CoSHH Course,
Knowledge gap filled - very informative and well delivered.






Delegate on Modern CoSHH Course,
Very experienced and knowledgeable instructor able to answer all questions asked.






Delegate on Work Equipment Course,